PROGRAMS
DISCOVER, EXPERIENCE AND CONNECT WITH RESIDENCY PROGRAMS FROM ACROSS CANADA IN ONE VIRTUAL PLACE.

University of Manitoba - Anesthesiology - Winnipeg
The University of Manitoba Anesthesia Program provides an ideal balance. In spite of being a fairly large program, with a very broad clinical experience, our residents are a close-knit group. That connectedness is fostered by an active wellness program, but more importantly by a Departmental culture of mutual support. Our residents also have input into their training choices. They gain independence through their training, taking on appropriate increases in responsibility (with any needed support), while they work toward their personal goals and those of the program. Our Residents see a broad spectrum of pathology as Winnipeg serves as a referral base for all of Manitoba, Northwest Ontario, and Nunavut. The over-arching guiding principle is to provide every resident with the basic clinical a professional skillset to discover and pursue the subspecialty and non-clinical interests that will make them valuable to the profession and enrich their professional lives.
The Department of Anesthesia at the University of Manitoba is a broad-based clinical program committed to producing high caliber anesthesiologists who will go on to fulfill leading roles, enriching their future departments and the specialty as a whole. The program is structured around comprehensive clinical excellence as the core. The clinical exposure in the program is primarily spent at the two tertiary hospitals, Health Sciences Centre and the St. Boniface Hospital with focused exposure to regional anesthesia at the Panam Surgical Centre, and community exposures at one of our three community hospitals. Beyond developing their own personal skillset, the anesthesiologist of today needs to be a team leader. The whole region operates with Anesthesia Assistants and high risk nurses fully integrated into our perioperative management teams.
The department is deeply committed to the philosophy that the health of our specialty depends upon Anesthesiologists being well-rounded professionals. Clinical excellence alone does not create the future. Our department is very proud to have a wealth of mentors who are actively engaged throughout the University with contributions to teaching, education, research, administration and other non-clinical activities.
Resident well-being and continued support is an important focus in our program. A resident retreat is organized on an annual basis by our resident social representatives which includes a full day of non- clinical activities that allow all residents to network and build a rapport with one another. In addition, a Physician wellness curriculum is offered to residents to build and maintain the tools to cope with stress both within and outside the program.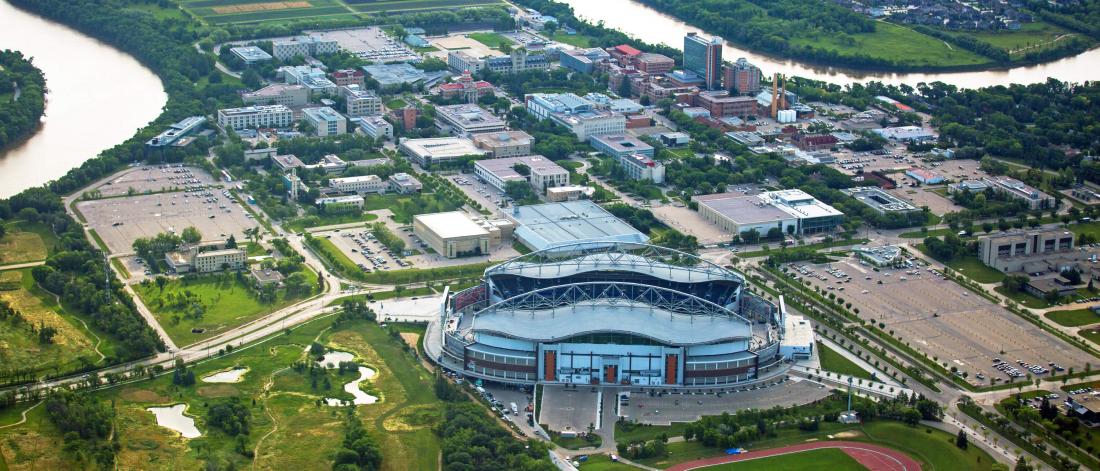 It is inherent to Competency-based training that individual residents will progress at different paces. This is a five-year program, and for residents who progress more rapidly, our program provides fellowship-level EPAS that they can use to enhance their educational portfolio.
Competency-Based Medical Education
Competency-Based Medical Education comprises four stages of training. In the introductory stage, Transition to Discipline (TTD), we provide a comprehensive Boot-camp that serves to prepare our residents for their first year of residency and the stages that follow. Residents will receive didactic, simulation and hands-on OR training in the first month. Courses during the first month include: Basic Life Support, ATLS, Transthoracic Echocardiography, CAE ultrasound course, simulation scenarios, and didactic sessions designed to complement the Entrustable Professional Activities (EPAs) for TTD. The duration of TTD is 2 months with significant time for hands-on OR experience.
The second phase of our CBME program encompasses 16 Royal College EPAs that comprise the Foundations portion of the curriculum. Our program believes that broad exposure to diverse training opportunities will result in well-rounded physicians capable of meeting the challenge of independent practice. To achieve these goals, residents will rotate on off-service rotations ranging from internal medicine, pediatrics and emergency medicine to Cardiology and Respirology. After completion of EPAs specific to these rotations (see Road Map), the resident will rotate through more advanced rotations in General Anesthesia and ICU. A core curriculum of simulation training, online learning tools and didactic lectures exist to support acquisition of Foundations EPAs. The expected duration of Foundations for our program is 22 months.
As residents transition to more advanced stages, subspecialty training takes a more prominent role. During Core, the third stage of training, residents rotate through anesthesia subspecialties such as Neuroanesthesia, Cardiac, Pediatrics and further their ICU experience and the acquisition of more advanced EPAs. A unique feature to the U of M program during this stage is the opportunity for department-sponsored international electives and eligibility for up to 6 months of research training with prominent faculty. Residents will write the written portion of their Royal College exam during the latter portion of Core, which has an expected duration of 30 months. Our dedicated faculty has a long history of outstanding teaching which is instrumental to success on the exam.
Lastly, Transition to Practice features EPAs that focus more on career planning and truly independent, advanced consultant-level anesthetic care. A consultant at this stage will be able to manage the most challenging cases in patients with advanced disease, often during critical stages of illness. During these last 6 to 12 months of training, residents prepare for independent practice. A vigorous and comprehensive oral exam course with a long tradition of outstanding preparation as well as generous time for self-study has been afforded for this stage. Our goal is to facilitate an overall CBME program that is responsive to the needs of each resident to make them the best physician they can be. In situations where a resident has completed the Royal College EPAs early, all opportunities will be afforded to allow for advanced training of the resident's choice or credit toward fellowship training where appropriate.