PROGRAMS
DISCOVER, EXPERIENCE AND CONNECT WITH RESIDENCY PROGRAMS FROM ACROSS CANADA IN ONE VIRTUAL PLACE.

University of Manitoba - Family Medicine - Northern Remote
Site Education Director PGY1
Overview of Department
For more than 40 years, the University of Manitoba's Department of Family Medicine has been positively influencing the health of individuals, families and communities across Manitoba. Through clinical work, teaching and innovative research, family medicine is making a difference.
This program, accredited by the College of Family Physicians of Canada, promotes whole-person medicine through a combination of patient-centred care and structured seminars. During clerkship, learners are distributed in over 20 communities throughout Manitoba.
Training Passionate Family Physicians
After completing a four-year undergraduate degree in Medicine, students who enter the two-year Family Medicine residency choose a learning stream tailored to their practice interests.
Enhanced Training
In addition to the postgraduate program, Family Medicine also offers enhanced skills training which allows Family Medicine doctors to continually shape and reshape their careers.
Enhanced training is available in the following areas:
Addictions


FM Anesthesia


Cancer Care


Care of the Elderly


Emergency Medicine


Obstetrical Surgical Skills


Palliative Care


Sport & Exercise Medicine


This training requires an additional 6–12 months of study.
Residents finishing their second year and practicing family physicians may apply.
Integrative Medicine in Residency Program Option
The Integrative Medicine in Residency (IMR) program is a two-year program of study exploring the integration of Complementary and Alternative therapies with conventional family practice in an evidence-based manner. This program is being offered in conjunction with the University of Arizona Center for Integrative Medicine, and is a 200-hour, interactive web-based curriculum that is completed longitudinally alongside the Family Medicine residency program. This program option is available to residents in all streams. Visit the Integrative Medicine in Residency Program page for full details.
Scholarly activities in our program include:
participation in monthly Journal Clubs


presentations at patient case rounds and regular guideline appraisals


didactic teaching


formal Quality Improvement curriculum


Critical Appraisal assignments


PEARLS exercises as offered through the College of Family Physicians of Canada


Academic Days throughout the year


additional core curriculum as mandated by PGME for all postgraduate program residents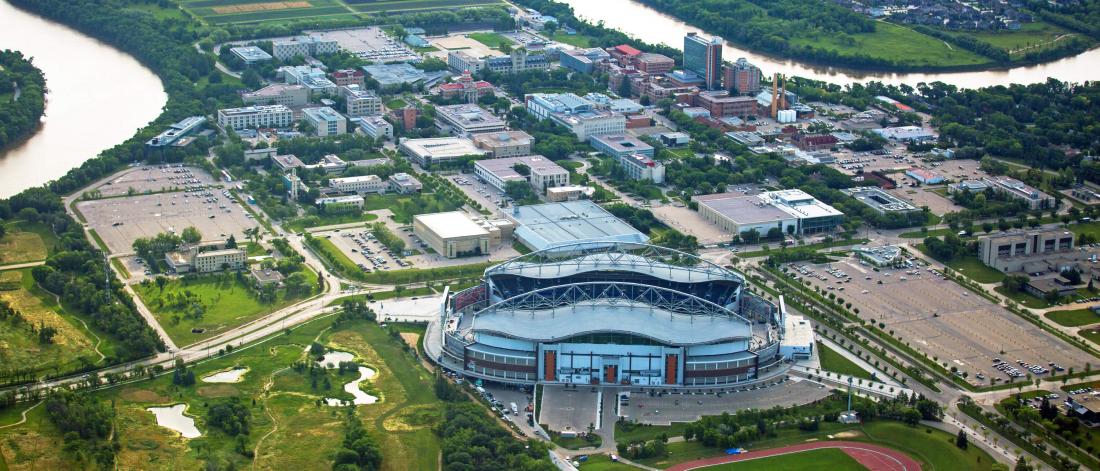 Winnipeg is a vibrant city in the heart of Canada with a population of almost 800,000. It is the largest city in the province of Manitoba and is near the longitudinal centre of Canada, located 110 kilometers north of the Canada – USA border. Winnipeg is well known for being one of the most culturally diverse cities anywhere, with over 100 languages spoken. The city is named after nearby Lake Winnipeg, the 10th largest freshwater lake in the world. The name comes from the Western Cree words for muddy water. Winnipeg is family friendly with plenty of charm, many green spaces, parks and activities for children. The city boasts dazzling arts, theatre & indie music scenes, one of the most extensive & diverse food scenes in Canada, multiple professional sports teams and is home to many festivals.
Winnipeg experiences four distinct seasons. Nothing beats a prairie summer under our big sky! Manitoba summers are typically very sunny and hot. Legendary winters provide opportunities for many winter sports. We have over 2,300 hours of sunshine per year – among the highest of Canadian cities. Enjoying all four seasons is easy, Winnipeg is close to lakes, parks and beaches which provide great areas to camp, fish and hike. Winter activities include cross country skiing, skating, snowmobiling, snowshoeing, hockey, ringette and tobogganing.
There are several sports teams including the Winnipeg Jets (NHL), Winnipeg Blue Bombers (CFL), Winnipeg Goldeyes (baseball), Valour FC (Canadian Premier League Soccer) and Manitoba Moose hockey (AHL). The city recently hosted the Canada Games in 2017.
Winnipeg is home to many festivals including Folklorama, the largest and longest running multicultural festival in the world. Other popular festivals include Festival du Voyageur, the Winnipeg Folk Festival, the Jazz Winnipeg Festival, the Winnipeg Fringe Theatre Festival, the Winnipeg International Children's Festival among many more. The Forks is a national historic site at the intersection of the Red and Assiniboine Rivers, with warehouses converted to shops and restaurants, plus ample green space dedicated to recreational, historical and cultural events such as festivals, concerts and exhibits. The Canadian Museum for Human Rights is appropriately situated at the Forks. Nearby, the Exchange District is known for its well preserved, early 20th century architecture and numerous art galleries, trendy shops, cafes and restaurants. Some of Winnipeg's other diverse neighbourhoods include the boho chic Osborne Village and the historic St. Boniface, the heart of Manitoba's Francophone community.
Known as the "Gateway to the West", Winnipeg is a railway and transportation hub with a diversified economy. It is a very affordable place to live in Canada. Resident salaries are higher than in most provinces and items such as food, gas, rent and car insurance are typically less.
Websites of interest:
Major Strengths of the Northern Remote Stream
The Northern Remote curriculum will prepare you well to practice in rural and remote areas. Most of the first year consists of rotations based in Winnipeg, while most of the second year consists of rotations located in remote and northern sites.
We provide:
First year Family Medicine experience in the inner city, with a focus on health equity and the care of vulnerable populations


Indigenous Health rotation integrated throughout both years of the program, with emphasis on cultural safety, health policy, advocacy and leadership.


Robust inter-professional practice models and collegial environments with low preceptor-learner ratio


Costs of travel to and accommodation at remote sites covered by the program.


Core rotations designed to support remote practice, including ICU, trauma and orthopedic surgery, airway management, and addictions


2 days of Academic Curriculum per rotation with emphasis on simulation and procedural skills


ACLS, ATLS, ALARM, NRP, PALS and procedural sedation courses


Opportunities for core non-family medicine rotations in remote or rural locations (obstetrics, ER)


2 week exposure to HIV care


Opportunities for participation in teaching


A winter retreat for residents in the Northern Remote stream in addition to the fall resident retreat


Variety of practice locations which include remote First Nations Fly-in Communities, remote Inuit communities in Nunavut or NWT, and larger northern towns equipped with secondary care hospital and some specialist services


Winnipeg is a vibrant city of 685,000, and one of the most culturally diverse cities anywhere. Some 100 languages are spoken and Winnipeg is known for its cultural achievements, amazing restaurants and flourishing arts scene. The Canadian Museum for Human Rights is appropriately situated at the Forks of the Red and Assiniboine Rivers. Winnipeg is also home to multiple festivals, performing arts companies, and professional sports teams, including the Winnipeg Jets! The average summer temperature is 25.4C, the average winter temperature is -12.9C, and we have over 2,300 hours of sunshine per year — among the highest of Canadian cities. Check us out at Travel Manitoba and Tourism Winnipeg.


Churchill, Manitoba — this popular international tourist destination is located on Hudson's Bay and is the Polar Bear capital of North America; it offers kayaking and Beluga whale sightings in the summer.


Thompson, the Pas and Flin Flon, Manitoba- these northern Manitoba towns offer beautiful lake country and a multitude of outdoor activities


Opportunity to experience Arctic culture, climate and geography


PGY-1:
As a Northern Remote resident, your first year family medicine home clinic will be located either at Northern Connection Medical Centre (NCMC) in Winnipeg, or in the community of Norway House Cree Nation, a northern Manitoba First Nation community of over 7000 people. For those residents selected for this northern first year option, they will also have a 2-month exposure at NCMC. Residents matching to the program will have the opportunity to state their preference for this northern first year option in an internal match process.
NCMC is an inner city teaching unit with a focus on underserved populations, situated close to the Health Sciences Centre in Winnipeg's core area. All residents in the stream will have the opportunity to participate in pre-natal and intra-partum care, newborn care, and teen health in their first year family medicine rotations. All residents will also get a two-week exposure to HIV care at Nine Circles Community Health Centre as part of the first year curriculum.
PGY-2:
Your second year Family Medicine experiences will be largely based in northern or remote sites. Residents declare their preferences for experiences in a number of towns in northern Manitoba, Nunavut, and Northwest Territories. Each resident spends time in at least two of the following sites: Churchill, Flin Flon, the Pas, Thompson, Swan River, Norway House, Hodgson, Yellowknife and Rankin Inlet. On occasion, other appropriate locations, such as Inuvik, Iqaluit, and Hay River, are able to host residents on a less regular basis.
In addition, each resident will spend a block of family medicine in their home clinic, either in Winnipeg or Norway House. They will also spend approximately 4 weeks in small, First Nations communities, flying with their preceptors in partnership with University of Manitoba's Ongomiizwin Centre for Health and Healing. Northern Remote residents will spend an additional 2 weeks in the north on their airway management rotation.
Training in off-service rotations will take place in both tertiary and community hospitals within Winnipeg. These rotations have been developed to enhance the skills necessary to practice in an isolated environment, and include 2 weeks of neonatology, and 4 weeks of addiction medicine, in addition to ICU and trauma surgery.
Return of Service Information for Northern Remote Residents
All residents accepted into the Northern-Remote Family Medicine Residency Program will be required to sign a two-year return-of-service agreement with Manitoba Health for commitment to practice in a remote or northern Manitoba community, which is attached to a taxable financial incentive. After the return-of-service has been fulfilled, graduates of the Northern-Remote Family Medicine Residency Program may apply for admission to a Family Medicine Enhanced Skills Program or Royal College specialty program of their choice in the Rady Faculty of Health Sciences at the University of Manitoba.
Candidates already holding a return of service obligation must disclose these obligations at the time of application. Candidates who have undischarged return of service obligations may not be eligible to begin training in a position funded by Manitoba Health. Such individuals may wish to contact Manitoba Health for further information.