University of Manitoba - Family Medicine - Rural Brandon
Site Education Director/Site Medical Lead
Overview of Department
For more than 40 years, the University of Manitoba's Department of Family Medicine has been positively influencing the health of individuals, families and communities across Manitoba. Through clinical work, teaching and innovative research, family medicine is making a difference.
This program, accredited by the College of Family Physicians of Canada, promotes whole-person medicine through a combination of patient-centred care and structured seminars. During clerkship, learners are distributed in over 20 communities throughout Manitoba.
Training Passionate Family Physicians
After completing a four-year undergraduate degree in Medicine, students who enter the two-year Family Medicine residency choose a learning stream tailored to their practice interests.
Enhanced Training
In addition to the postgraduate program, Family Medicine also offers enhanced skills training which allows Family Medicine doctors to continually shape and reshape their careers.
Enhanced training is available in the following areas:
FM Anesthesia


Cancer Care


Care of the Elderly


Emergency Medicine


Obstetrical Surgical Skills


Palliative Care


Sport & Exercise Medicine


This training requires an additional 6–12 months of study.
Residents finishing their second year and practicing family physicians may apply.
Integrative Medicine in Residency Program Option
The Integrative Medicine in Residency (IMR) program is a two-year program of study exploring the integration of Complementary and Alternative therapies with conventional family practice in an evidence-based manner. This program is being offered in conjunction with the University of Arizona Center for Integrative Medicine, and is a 200-hour, interactive web-based curriculum that is completed longitudinally alongside the Family Medicine residency program. This program option is available to residents in all streams. Visit the Integrative Medicine in Residency Program page for full details.
Scholarly activities in our program include:
participation in monthly Journal Clubs


presentations at patient case rounds and regular guideline appraisals


didactic teaching


formal Quality Improvement curriculum


Critical Appraisal assignments


PEARLS exercises as offered through the College of Family Physicians of Canada


Academic Days throughout the year


additional core curriculum as mandated by PGME for all postgraduate program residents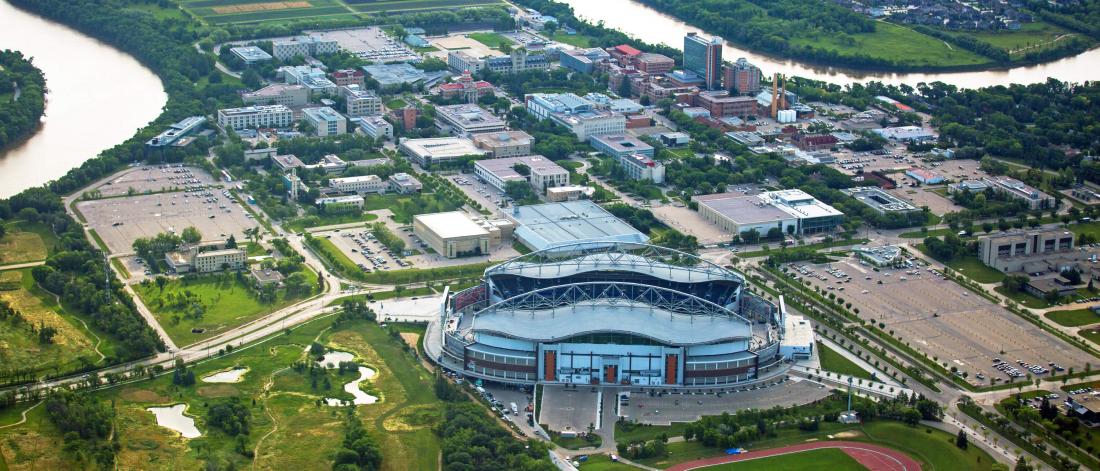 What about fun in Brandon?
Brandon, Manitoba
Brandon is the regional trade, education and medical service centre for some 180,000 residents of southwest Manitoba. The city's estimated population is 50,000 and there is a very diverse ethnic culture which includes over 7,200 newcomers who have immigrated to the city in the past 10 years. Brandon has a stable, strong and diverse economy with approximately 2000 businesses that are local, national and international in scope and range from a couple of employees to several thousand. The agriculture sector, oil industry, retail & service companies along with a solid manufacturing sector keep our economy healthy. The medical community includes over 100 doctors and medical specialists, with 8 medical clinics, 12 dental offices and 8 optometrist offices. Daily flights from Brandon's modern and spacious airport to Calgary, AB via WestJet Encore allow direct access to an international airport. Brandon also offers an air shuttle service to Winnipeg International Airport.
Our retail / service sector includes:
The Corral Centre is home to Super Walmart, Home Depot, Winners, Best Buy and Safeway. In addition, there is Staples, Michaels, Canadian Tire, Marks Work Warehouse, multiple furniture, clothing and footwear retailers. There are many pharmacies and grocery stores. The Brandon Shoppers Mall has over 90 retail, food & service outlets. There are many locally owned ethnic stores, all major banking institutions and vehicle dealerships, and much more.


There are over 100 restaurants to provide something for every appetite and budget as well as over 25 bars and lounges within the city of Brandon. Outdoor patios and live entertainment can be found through the city's restaurants.


Fitness Centre's include YMCA, Anytime Fitness, Good Life Fitness, Healthy Living Centre (Brandon University, open to all for membership), cross fit, indoor cycling, The Zen Zone and many other locally owned and operated facilities.


Brandon has over 30 registered Child Care Facilities as well as licensed & unlicensed private in-home child care, over 90 parks, playgrounds and green spaces, 3 leash free dog parks, 1 outdoor pool, 2 indoor pools, 5 outdoor water/spray parks, outdoor & indoor public skating, tobogganing hills and 44 km's of walking, biking & hiking trails with outdoor fitness equipment located throughout the city. Provincial Online Child Care Information


Education, Training & Faith:
Brandon School Division encompasses 22 schools including elementary, middle years and high schools with a 23rd elementary school currently under construction. The school division offers an Advanced Placement Program as well as French Immersion and a faith-based school, Christian Heritage School.


Brandon University has a significant reputation in music, general arts and science programs. Undergraduate degrees are available in Arts, Science, Music, Education, Business Administration, Fine Arts, Nursing, Psychiatric Nursing, and First Nations and Aboriginal Counseling. The University also features graduate degrees in Psychiatric Nursing, Music, Rural Development and Education, as well as pre-professional programs in 19 areas ranging from agriculture to veterinary medicine. Brandon University is also home to the innovative Applied Disaster and Emergency Studies program – the first program of its kind in the country. The average annual enrollment is over 3000 students.


Assiniboine Community College offers over 40 unique programs in the fields of agriculture, environment, business, health and human services, food and hospitality, trades and technology with over 300 full-time employees and has an average annual full-time enrollment over 1,800 including apprenticeships at the two Brandon campuses.


The Manitoba Emergency Services College has 37-40 full time enrollment and over 2200 continuing education enrollment each year.


There are over 40 Places of Worship in many different denominations


Housing:
The housing market has always remained very stable in Brandon; the average price of a house in 2018 was $271,621 (Housing Resources). All the housing neighborhoods include greenspace, trees and parks. Brandon Area Realtors' website includes listings for all the real estate agents within the city.


The average rent for a 2-bedroom apartment in Brandon in 2018 was $866 plus utilities based on data from Canada Housing and Mortgage Corporation. There are many options for apartments; fueled by new construction throughout the city including the conversion of downtown historic buildings into unique living space such as the Prairie Lofts project. Resources for finding rental properties in Brandon are available at Rental Property.


Recreation & Leisure:
Brandon's online photo/video library


Walking, biking or hiking trails within the city and in the Brandon Hills just south of the city


Riding Mountain National Park – 1 hour drive north of Brandon


4 Provincial Parks within a 1-hour drive of Brandon


International Peace Gardens on the Manitoba/North Dakota border 1 hour drive south of Brandon


Downhill skiing 40 minutes away and cross country skiing within minutes of Brandon


5 golf courses in Brandon and 16 more within a 1 hour drive of Brandon


Riverbank Discovery Centre/ Brandon Tourism located beside the Assiniboine river which runs 17 km throughout the City and home to Festival Park and natural walking trails.


Fishing, boating and water sports


WHL Hockey team – Brandon Wheat Kings


Brandon University Bobcats – Basketball and Volleyball


Public Library & Art Gallery of Southwestern Manitoba — presents national and international exhibitions and works by regional artists


Community theatre groups, recreational sports leagues, hobby groups, supports groups and not for profit's can be found in the Community Contact List. Recreational sports groups include baseball, volleyball, basketball, racquetball, golf, tennis, martial arts, boxing, running, biking, extreme frisbee, etc.


The Keystone Centre – over 10 acres of convention, entertainment, agricultural and recreation complex & home ice to the Wheat Kings, all found under one roof


Brandon University School of Music


Westman Centennial Auditorium – including performances such as Winnipeg Ballet, concerts, plays, etc.


There are 17 Community Gardens throughout the city


Pelican Lake Sailing Club – 50 minute drive south/east of Brandon


Sand Hills Casino – 1 hour drive east of Brandon


Annual Events include the Royal Manitoba Winter Fair, Provincial Exhibition (Summer Fair), Fall Fair, Ag Days, Westman Multicultural Festival, Canadian National Arabian and Half Arabian Horse Show, Crusin' the Dub (downtown car show), Brandon Folk Music Festival, Brandon Jazz Festival, Dakota Nation Winterfest.
For more information on Brandon, visit the following websites.
As a resident in the University of Manitoba's Rural Family Medicine stream, you'll see large patient volumes and hone your procedural skills through a variety of clinical encounters. This stream offers excellent learner-to-physician ratios ensuring as much one-on-one time as possible. These sites also welcome undergraduate students, enhancing the opportunity for collaborative learning.
Strengths of the Brandon stream:
The Brandon Family Medicine Stream is a two-year residency where residents live and train in Brandon. Brandon is a small city with family medicine preceptors providing the full scope practice, generalist specialist preceptors and a very well-equipped regional referral health centre. Much of the training is provided longitudinally over the two years. Emphasis is placed on skill and knowledge development, generalist education and continuity of care.
An active teaching unit, with low preceptor to trainee ratios.


Large clinical volumes with excellent variety of patients.


Frequent opportunities to perfect your procedural skills through clinical encounters and procedural labs.


Continuity of care within your preceptor's practice is an educational priority and is provided during the two years during Family Medicine block time and continuity clinics while on specialty rotations.


There is an integrated curriculum that provides training in emergency, psychiatry, obstetrics and geriatrics embedded within Family Medicine Block Time.


Monthly academic days in small group learning environments with in-unit teaching.


Very well-equipped regional referral health centre that services a population of about 180,000


Rural rotations in Family Medicine in both years


Pediatric Emergency at the busy Winnipeg's Children's Hospital and Palliative Medicine rotation at specialized Winnipeg unit


Brandon is a welcoming community nestled along the Assiniboine River, rich in diverse culture and offering a metropolitan lifestyle with the charm of small town living. Located in the heart of Southwestern Manitoba, 200 km west of Winnipeg
Population of about 50,000, average age of 36


Affordable housing


Extensive retail and service sector, >2000 businesses


Lots of recreation facilities and events with over 90 parks, playgrounds and green spaces


In-city commute of 12 minutes.