PROGRAMS
DISCOVER, EXPERIENCE AND CONNECT WITH RESIDENCY PROGRAMS FROM ACROSS CANADA IN ONE VIRTUAL PLACE.

University of Manitoba - Family Medicine - Rural Portage la Prairie
Site Education Director/Site Medical Lead
Overview of Department
For more than 40 years, the University of Manitoba's Department of Family Medicine has been positively influencing the health of individuals, families and communities across Manitoba. Through clinical work, teaching and innovative research, family medicine is making a difference.
This program, accredited by the College of Family Physicians of Canada, promotes whole-person medicine through a combination of patient-centred care and structured seminars. During clerkship, learners are distributed in over 20 communities throughout Manitoba.
Training Passionate Family Physicians
After completing a four-year undergraduate degree in Medicine, students who enter the two-year Family Medicine residency choose a learning stream tailored to their practice interests.
Enhanced Training
In addition to the postgraduate program, Family Medicine also offers enhanced skills training which allows Family Medicine doctors to continually shape and reshape their careers.
Enhanced training is available in the following areas:
Addictions


FM Anesthesia


Cancer Care


Care of the Elderly


Emergency Medicine


Obstetrical Surgical Skills


Palliative Care


Sport & Exercise Medicine


This training requires an additional 6–12 months of study.
Residents finishing their second year and practicing family physicians may apply.
Integrative Medicine in Residency Program Option
The Integrative Medicine in Residency (IMR) program is a two-year program of study exploring the integration of Complementary and Alternative therapies with conventional family practice in an evidence-based manner. This program is being offered in conjunction with the University of Arizona Center for Integrative Medicine, and is a 200-hour, interactive web-based curriculum that is completed longitudinally alongside the Family Medicine residency program. This program option is available to residents in all streams. Visit the Integrative Medicine in Residency Program page for full details.
Scholarly activities in our program include
participation in monthly Journal Clubs


presentations at patient case rounds and regular guideline appraisals


didactic teaching


formal Quality Improvement curriculum


Critical Appraisal assignments


PEARLS exercises as offered through the College of Family Physicians of Canada


Academic Days throughout the year


additional core curriculum as mandated by PGME for all postgraduate program residents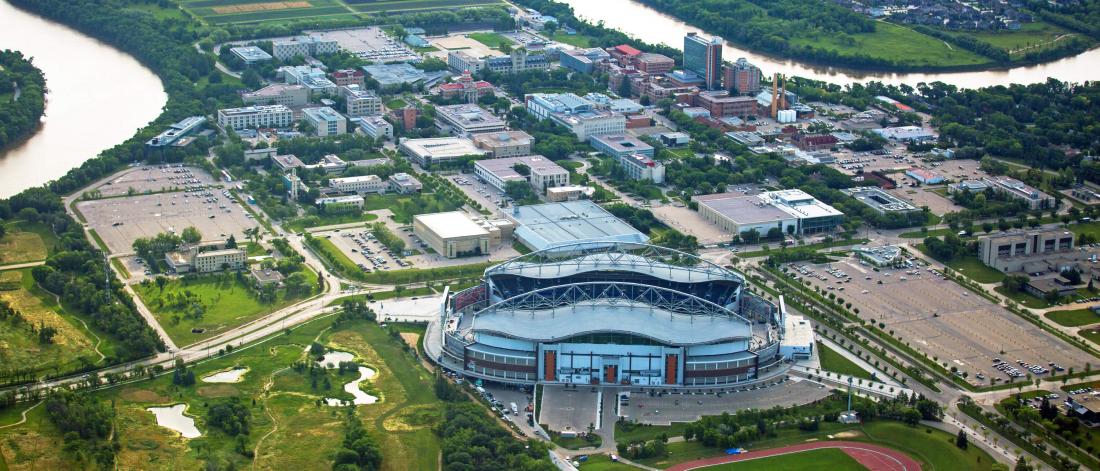 Portage la Prairie and area is a progressive community with an area population of approximately 20,000 inhabitants. It is the fourth largest city in southern Manitoba. It is located a 1-hour drive from Winnipeg.
Portage la Prairie offers a variety of recreational activities all year round for all ages.
The Stride Place features two NHL-size indoor arenas, an indoor walking track, 4,000 sq. ft. fitness center, Manitoba's largest wave pool, on-site concession services, meeting and special event facilities.
Southport Recreation Centre includes a gymnasium and weight/cardio rooms.
There are several softball diamonds throughout Portage, a soccer field, & a 400 meter track.
Island Park is home to Splash Island, our outdoor water park, a playground area, band shell, arboretum, deer & waterfowl sanctuary, tennis courts, picnic sites, strawberry farm, and an 18-hole golf course.
Crescent lake has a beautiful community walking path with many historical signs that give reference to sites of the past & current heritage properties along the lake.
Curling, hockey & skating are some of the winter activities to enjoy both indoors as well as outdoors on a community maintained area on the lake complete with changing shelters and a bonfire area.
The Fort la Reine Museum is made up of 25 buildings and it covers 300 years of prairie history. It was the winner of two Central Manitoba Tourism Awards in 2020, the "Event of the Year "and the "Aspiring Youth "awards.
Prairie Fusion Arts & Entertainment is the artistic hub for Portage & the surrounding community. They provide an inclusive environment where all people can experience, learn, create & celebrate the arts.
Websites of Interest:
As a resident in the University of Manitoba's Rural Family Medicine stream, you'll see large patient volumes and hone your procedural skills through a variety of clinical encounters. This stream offers excellent learner-to-physician ratios ensuring as much one-on-one time as possible. These sites also welcome undergraduate students, enhancing the opportunity for collaborative learning.
Strengths of the Portage la Prairie stream:
Experienced teachers, with low preceptor to trainee ratios and the opportunity to work with medical students in a clinical teaching unit model of hospital practice.


Large clinical volumes with excellent variety of patients.


Frequent opportunities to perfect your procedural skills through clinical encounters and procedural labs.


Ultrasound trained emergency doctors.


Exposure to Aboriginal health through clinic both in Portage and in First Nations communities.


Longitudinal experiences in Obstetrics, E.R., Psychiatry & Surgery.


Residents have their own patients that they follow throughout their 2 years in Portage.


Monthly academic days in small group learning environments, rural Continuing Medical Education (CME), and an active resident-led journal club. We have a formal simulation medicine curriculum integrated into our academic days.


The Portage Clinic also offers patient services such as a prenatal nurse, chronic disease nurse, wound care nurse, kinesiology and a child and adolescent shared care mental health team member. We have visiting specialists as well including a gynecologist, orthopedist, dermatologist, rheumatologist and ophthalmologist.
Our building offers office space to the Southern RHA, the Portage Hearing Center, a TMJ & sleep apnea specialist and a psychiatrist. We offer UVB light therapy services as well as a seven day a week Walk-In Clinic.
Portage Clinic physicians offer their services to both Cartier Health Centre and the MacGregor Health Centre, all working through an accessible and shared EMR system.
We also have contracts for services within the Portage & District General Hospital for the ER, OR, ICU, obstetrics, dialysis, chemotherapy, psychiatry and anesthesia departments. We also provide services to the residents of the Manitoba Developmental Centre, personal care homes, Agassiz Youth Centre, KF Aerospace Flight Training School, Sandy Bay Health Centre, Gladstone, AFM and the Teen Clinic (located at the local high school).
We have a well-equipped procedure room in the clinic which allows the doctors as well as the residents the opportunity to perform minor surgeries.
There is also an aesthetics clinic run weekly which the residents participate in.