PROGRAMS
DISCOVER, EXPERIENCE AND CONNECT WITH RESIDENCY PROGRAMS FROM ACROSS CANADA IN ONE VIRTUAL PLACE.

University of Manitoba - Family Medicine - Rural Steinbach
Site Director/Assistant Director, Education
Overview of Department
For more than 40 years, the University of Manitoba's Department of Family Medicine has been positively influencing the health of individuals, families and communities across Manitoba. Through clinical work, teaching and innovative research, family medicine is making a difference.
This program, accredited by the College of Family Physicians of Canada, promotes whole-person medicine through a combination of patient-centred care and structured seminars. During clerkship, learners are distributed in over 20 communities throughout Manitoba.
Training Passionate Family Physicians
After completing a four-year undergraduate degree in Medicine, students who enter the two-year Family Medicine residency choose a learning stream tailored to their practice interests.
Enhanced Training
In addition to the postgraduate program, Family Medicine also offers enhanced skills training which allows Family Medicine doctors to continually shape and reshape their careers.
Enhanced training is available in the following areas:
Addictions


FM Anesthesia


Cancer Care


Care of the Elderly


Emergency Medicine


Obstetrical Surgical Skills


Palliative Care


>Sport & Exercise Medicine


This training requires an additional 6–12 months of study.
Residents finishing their second year and practicing family physicians may apply.
Integrative Medicine in Residency Program Option
The Integrative Medicine in Residency (IMR) program is a two-year program of study exploring the integration of Complementary and Alternative therapies with conventional family practice in an evidence-based manner. This program is being offered in conjunction with the University of Arizona Center for Integrative Medicine, and is a 200-hour, interactive web-based curriculum that is completed longitudinally alongside the Family Medicine residency program. This program option is available to residents in all streams. Visit the Integrative Medicine in Residency Program page for full details.
Scholarly activities in our program include:
participation in monthly Journal Clubs


presentations at patient case rounds and regular guideline appraisals


didactic teaching


formal Quality Improvement curriculum


Critical Appraisal assignments


PEARLS exercises as offered through the College of Family Physicians of Canada


Academic Days throughout the year


additional core curriculum as mandated by PGME for all postgraduate program residents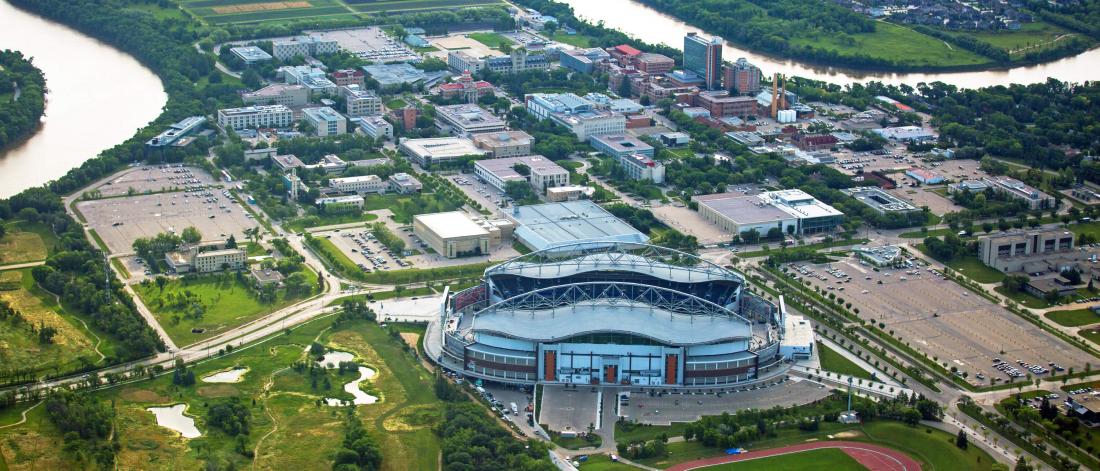 What about fun in Steinbach?
The City of Steinbach is the third largest city and the fastest-growing city in Manitoba. It is located a short 45-minute drive from Winnipeg.
The community is driven by both sports and arts and culture. Steinbach residents are passionate about outdoor activities. Recreation opportunities in Steinbach include swimming, bike and running paths, golf and cross-country skiing in the winter. Ball parks, soccer fields, cycling, walking paths and a golf course help keep the community active. Several outdoor skating rinks keep the residents moving in the winter. Steinbach boasts a fairly impressive 24,000 sq ft Aquatic Centre. The facility includes a junior Olympic pool (6 lanes), 2 water slides, lazy river, feature sprays, children's water play area, sauna, hot tub, outdoor pool and deck area, and outdoor splash park. Steinbach has numerous heritage sites as well as the Mennonite Heritage Village Museum. The active Steinbach Arts Council provides numerous cultural activities through the Cultural Arts Centre.
Websites of Interest:
As a resident in the University of Manitoba's Rural Family Medicine stream, you'll see large patient volumes and hone your procedural skills through a variety of clinical encounters. This stream offers excellent learner-to-physician ratios ensuring as much one-on-one time as possible. These sites also welcome undergraduate students, enhancing the opportunity for collaborative learning.
Strengths of the Steinbach stream:
An experienced and active rural teaching unit, with low preceptor to trainee ratios and the opportunity to work with medical students in a clinical teaching unit model of hospital practice.


Large clinical volumes with excellent variety of patients.


Frequent opportunities to perfect your procedural skills through clinical encounters and procedural labs.


Continuity of care within your preceptors practice is an educational priority, which we achieve through 6 months of family medicine block time.


An integrated curriculum providing training in psychiatry, obstetrics, geriatrics, community medicine, psychosocial counselling, and nutrition.


Monthly academic days in small group learning environments, rural Continuing Medical Education (CME), and an active resident-led journal club.
Steinbach is a thriving community of over 15,000 located 45 minutes southeast of Winnipeg. Learning opportunities include general family practice, emergency room coverage, in-hospital patient care, obstetrics, surgical assists, chemotherapy, palliative care and personal care home visits.
Bethesda Hospital located in Steinbach has 76 acute care beds and 20 private rehab beds. A clinical teaching unit (CTU) was established at Bethesda in October 2010. Patients who are admitted to the CTU are looked after by the team of medical students, family medicine residents and the attending physician. An important part of the Steinbach CTU is the opportunity for residents to teach the medical students.
Steinbach Family Medical (SFM) is the home base for all learners. SFM is a fully computerized, private, fee-for-service clinic and home to 20 family physicians and 4 general surgeons. Preceptors will generally only have one student at a time to ensure plenty of one on one teaching. Steinbach Family Medical was named the first "MyHealth Team" clinic in Manitoba. As part of the "MyHealth Team" we have dietitians, 2 shared care mental health workers, chronic disease nurses, a wound care nurse and a clinical pharmacist. We were very excited to move into the new Bethesda Primary Health Center in August 2017!
Steinbach strengths
The clinical teaching unit (CTU) consists of 2 medical students in their core clerkship family medicine rotation and 2-4 family medicine residents. Residents supervise the students in many different settings. Patients are admitted to the Bethesda CTU and are managed by the students and attending physician. Residents also have the opportunity to supervise the students during a same day care clinic at Steinbach Family Medical. Each student, however, spends the majority of their time with a single preceptor to ensure plenty of one-on-one teaching. This combination of group learning and individualized instruction has been very popular. We are very excited to be part of the expanded rural family medicine program and welcome you to consider Steinbach as your home base!
Many "rotations" are done horizontally during Family Medicine Block Time in Steinbach, thereby enhancing continuity of care and allowing more time in a Family Medicine centred environment.